WorkGroup Configuration Guide
The purpose of this document is to provide you with an overview of how the LeadMaster system is structured and what is required to create customized WorkGroups.
Every LeadMaster Reseller receives a pre-configured Logon/WorkGroup and basic administrator training. If you are going to be successful as a LeadMaster Reseller it is important that you understand how the system is designed and how to best configure it for each individual customer.
The WorkGroup Architecture
Access to records is divided first by database, then by workgroup and finally by user hierarchy.  In the LeadMaster environment the term WorkGroup refers to a distinct independent database partition.
The LeadMaster system is designed for multiple levels of authorization/access to records (leads).  This insures that only those users who are authorized will have access to records.  For example, one sales rep will not be able to see the other sales reps' records.  There are many different ways to configure LeadMaster.  Here are some of the most common structures within a LeadMaster WorkGroup:
One-tier WorkGroup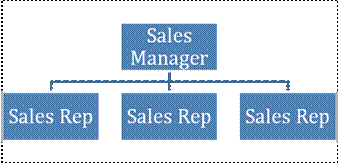 The one-tier WorkGroup would be typical of a small organization. A company with sales managers who work with their sales reps directly would exemplify this kind of configuration.  The individual sales reps can only see their own records, whereas the Sales Manager can see the records for all the reps.
Multiple-tiered WorkGroups
Tier 1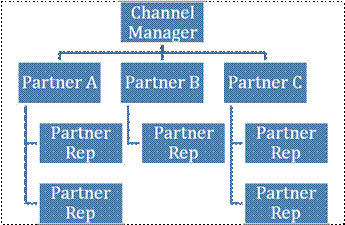 Multiple-tiered WorkGroups mirror organizations that partner with and sell through a franchise, dealer, reseller or channel. In this model, individual reps are overseen by managers, who may be overseen by other channel, or partner, managers.  Each Partner A, B & C only see the records for their reps.  Whereas the Channel Manager can see the records for all partners.
Tier 2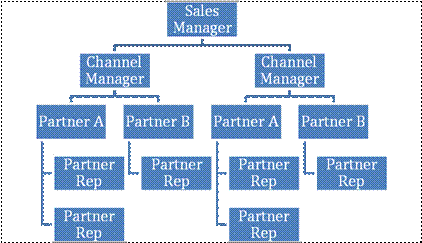 Expanding on the previous example, in larger companies there may be sales managers who preside over the aforementioned channel managers. The channel manager works with a network of third party organizations that in turn sell to the end user client.  The Channel Managers can only see their own partners.  Whereas the sales manager can see all records in this example.
Tier 3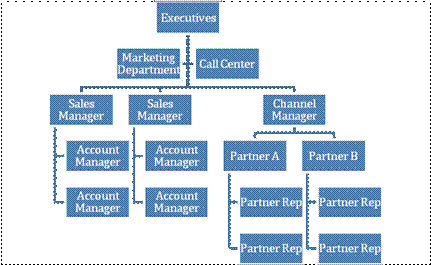 Another example of a multiple tiered WorkGroup would be a larger organization that has sales divisions and/or regions.  Typically the Marketing Department and Inside Sales / Call Center have visibility into all of the records as is shown here in this example.  One or more executives would have access to the entire organization or group.  Sales Managers, Channel Managers, Partners and Reps only have visibility to their own records and if applicable the layers below them.
There are many different ways WorkGroups can be configured to mirror the organization of the company that is using LeadMaster.  Even though all levels in the company may not be using LeadMaster initially, it is important that the WorkGroup structure accurately reflect the organizational structure from the beginning.  Changing organizational structure later can be challenging.
Companies with multiple WorkGroups
In addition to structures within the WorkGroup you'll also have companies with multiple WorkGroups.
Here's an example of an ad agency with three different customers:
The advertising agency has a database with 3 WorkGroups.  The ad agency can see the records of all 3 customers.  You'll notice the organizational structure is exactly the same as those in workgroup architecture examples listed above.
Customer #1 can't see Customer #2 or Customer #3 and likewise
Customer #2 can't see Customer #1 or Customer #3.
The same goes for Customer #3.
For Customer #1 the President or Manager can see all the records, but Sales Rep #1 can't see the records for Sales Rep #2 or #3. The same is true for Sales Rep #2 & #3.
For Customer #2 the Channel Manager can see all records but the Partners can only see their records.
For Customer #3 the Executive, Marketing Department and Call Center can see all the records for Customer #3 but the Sales Managers and Channel manager only have visibility to the records below them.
Just as there are many different ways WorkGroups can be configured, there are many combinations of WorkGroups that are possible for a single company.